This is where I will post the latest news, reviews, and other miscellany about my debut novel DEAD SIZE. I am currently available for interviews, public appearances, panel discussions, and parties. If you're an agent, publisher, movie producer, or genie who liked my book, I'd love to hear from you. Contact me via my CONTACT PAGE.
WANT TO READ SOMETHING DIFFERENT?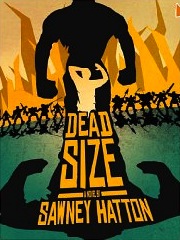 Gulliver Huggens has issues. He watched his family perish in a tragic car accident as a child. He doesn't know how to win the heart of the girl at the coffee shop. And he shares his home with a clan of mischievous tiny people.
Yet these all turn out to be the least of his troubles.
A secret race of Giants dwelling in the neighboring mountains wants Gulliver to exterminate all the Little People… or else.
When folks in his hometown begin brutally dying, Gulliver must make a hard choice. But choices have consequences.
And consequences, he'll learn, come in all terrible sizes.
DEAD SIZE is a dark comedy, a psychological fantasy, a murder mystery, a police thriller, and a love story, with some other stuff thrown into the mix to spice things up. It is a schizophrenic pastiche of the morbid, the florid, the comical, the absurd, the vulgar, the violent, the fantastic, the weird. It bears the marks of many of my influences: authors Joe R. Lansdale, Christopher Moore, and John Connolly; filmmakers David Lynch, Terry Gilliam, and Alejandro Jodorowsky; musicmakers Butthole Surfers, The Cramps, and Nick Cave & the Bad Seeds. It is a product of all the things I love.
DEAD SIZE is different.
5-Star Goodreads Reviews for DEAD SIZE:
"It's not quite a horror novel, although it certainly has some horror in it. It's not quite a comedy, despite a darkly comedic take on small-town life. And it's not really a family novel, despite the richly created family history, complete with some dark secrets. It's a little of everything… and the sum of the whole is greater than the parts, because it becomes something more than all of these things." –R. Bean
"The author is clearly quite talented, and he paints the scenes perfectly and pulls you right into this odd world Gulliver lives in. I recommend this for almost any reader who enjoys a book that thinks outside the box and isn't afraid to push the boundaries. A thrilling and entertaining read." –K. Stevens
"A really great read! Funny, sad, exciting, gory, unpredictable, with a little bit of the unbelievable thrown in for good measure." –Wendy R.
Other Reviews:
"DEAD SIZE by Sawney Hatton is a fantastic blend of detective story, dark comedy, and waking daydream—a surrealist painting of a novel. Inspired by Swift's GULLIVER'S TRAVELS, Hatton reimagines the titular protagonist as a crumbling shell of a man and reins in the world-spanning fantasy, bringing the satire and commentary and little people into a more recognizable setting, then stirring in a little romantic small town murder mystery for good measure. The dialogue is perfect and the prose will make English majors seethe with jealousy. There's sex and violence and heart and at least one robot. Sure, Gulliver may have traveled, but it was nothing like this."
–Eirik Gumeny, author of EXPONENTIAL APOCALYPSE
"Sawney Hatton is sick, twisted, and hilarious in the best way possible. A real talent."
–Russ Colchamiro, author of FINDERS KEEPERS and CROSSLINE
"The novel showcases Hatton's powerful blend of quirky humor and spot-on characterization and builds to a wild and unpredictable conclusion."
–James Chambers, author of THE ENGINES OF SACRIFICE and THREE CHORDS OF CHAOS
"The book's mystery keeps you on your toes and engaged through the end."
–Don Corcoran, author of A ROAD PAVED IN IRON
"Hatton writes in a distinctive narrative voice, telling the story from an omniscient third person perspective. Infused with dark humor and sarcastic commentary, it's strangely addictive to read… In fact, the satirical lilt with which Hatton writes is reminiscent of a 21st century Jonathan Swift."
–Mary Fan, Zigzag Timeline
"This is a funny, morbid, well-paced and crafted story that entertains and shocks in near equal proportions."
–Gaele, I Am, Indeed
"You will have so much fun reading this. If this was a movie, just wow. These are the types of stories that I look for, and thank God I found this."
–Jennifer Elizabeth Hyndman, Angels in the Underworld
"I've still got (the) ending to DEAD SIZE stuck in my head like a bur."
–Albert Berg, Unsanity Files